Overview
Every year we set our sights high on new personal and professional goals by using vision boards, tasks lists, or (if we're too cool for those) our brain capacity to host the new improvements we want to see in the new year.
But you have to ask yourself… How many New Year Resolutions from last year did you actually follow through with? Were you able to track your progress? Did you accomplish any of the goals you set for yourself?
Well, if your answers are "IDK or No" then your not alone. Many people go to Vision Board parties but don't know what it takes to accomplish that vision. There is a reason why 80% of New Year's Resolutions Fail by February, its because we have the vision but not the plan.
At Surthrive, we decided to share a tool we use called the Vision Framework which focuses on "HOW" your going to accomplish your big goals for the new year by simply Thinking Big. Starting Small. And Working Fast.
So, ditch the magazines, glue, and glitter and let's get sh*t done…
Definitions
What is a Vision Board?
A vision board is any sort of board on which you display a variety of inspirational and motivational images that represent whatever you want to be, do or have in your life.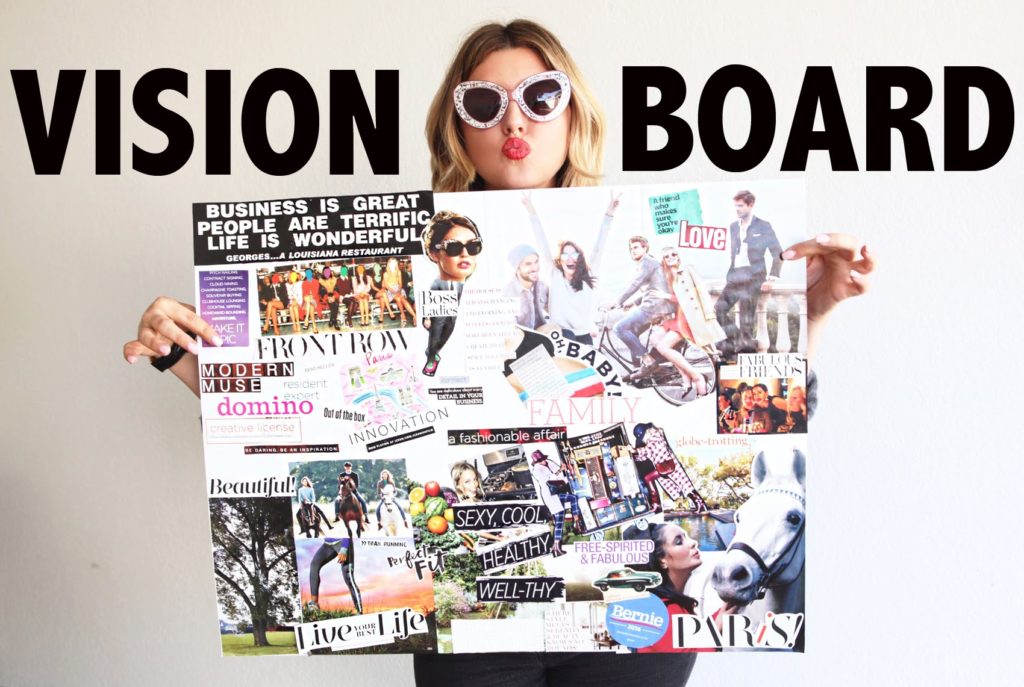 What are S.M.A.R.T Goals?
"SMART" is an acronym for Specific, Measurable, Achievable, Realistic, and Time-Based. Setting SMART goals means you can clarify your ideas, focus your efforts, use your time and resources productively, and increase your chances of achieving what you want in life.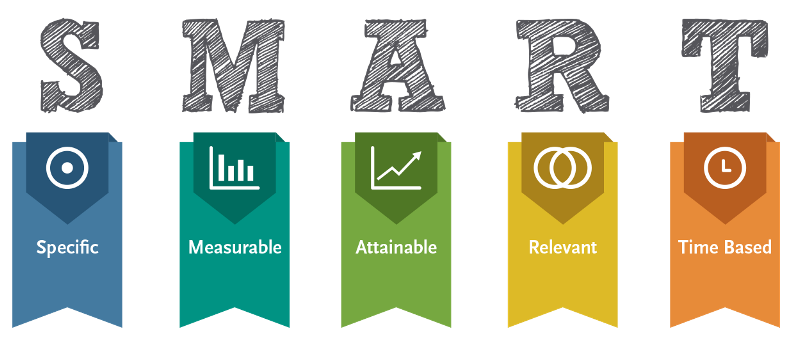 What is the Vision Framework?
The Vision Framework is a combination of a Vision Board and S.M.A.R.T Goals. It breaks your vision down into short time-based goals allowing you to visualize the necessary steps in takes to bring your vision into fruition within 12 months.
How It Works?
The Vision Framework is a reverse engineering tool, meaning we begin with the end (goal) in mind and work our way backwards to discovery a detailed path to get to it. There are three sections in the framework that represent your goals and the last section touches on the actions but let's get started!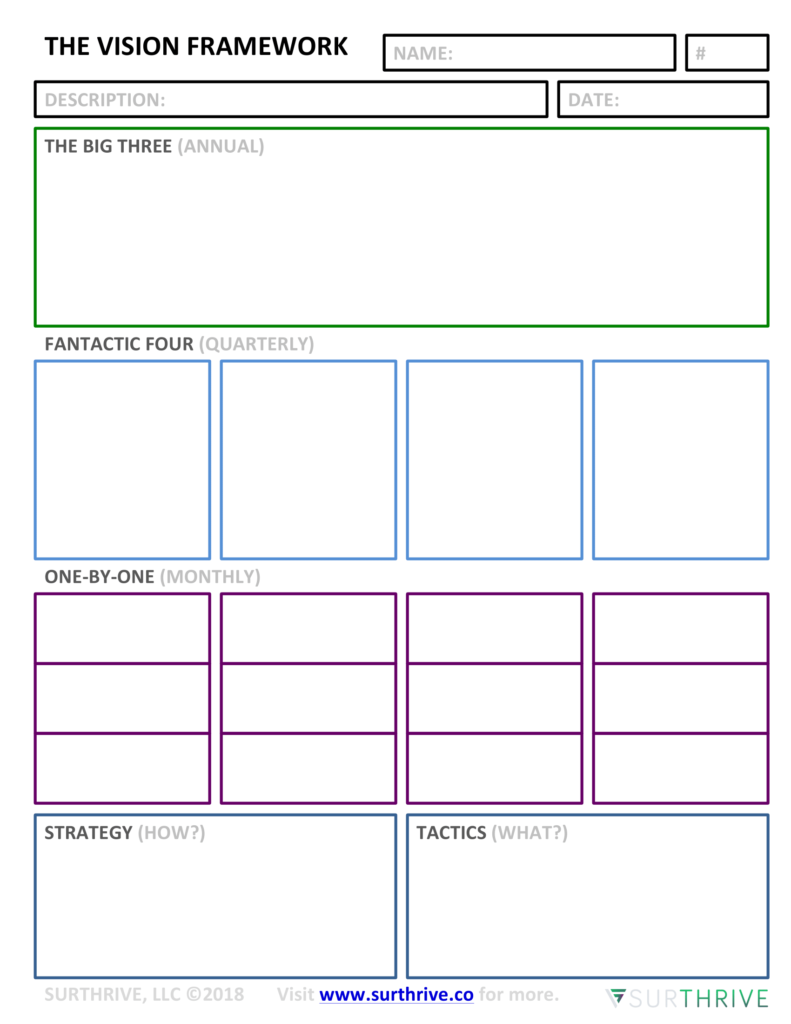 THE BIG 3
At the top of your Vision Framework you will enter "The BIG 3" objectives you want to accomplish by December 31st. YOU ONLY NEED THREE, no more and no less.
Why only three objectives?
Many people make the mistake of setting 5 to 10 goals for the year but find themselves only accomplishing a few of them. When you are only striving for three goals, you have a better chance of achieving them because you are eliminating the noise and narrowing your focus #TunnelVision. Let's be "S.M.A.R.T" about our goals. Here is an example…

Note: Make sure these three objectives are dynamic, clearly defined and very specific because the rest of your framework/year will be centered around "THE BIG 3" objectives.
FANTASTIC FOUR
In the middle of your Vision Framework you will see four horizontal squares. These four squares represent the four quarters in a year. In each of these boxes you should enter 3 goals you need to achieve by the end of each quarter.  Here's an example…

Note: Think of this portion of the framework as checkpoints or milestones to make sure you are on tack to accomplish "THE BIG 3."  Whatever you are doing should ALWAYS align with one of your BIG 3 objectives. FYI – 1 quarter = 3 Months.
ONE-BY-ONE
The third section of the Vision Framework consists of 12 boxes which represent the 12 months in a year. In each of these boxes enter 3 goals you want to accomplish by the end of the month. Here's an example…

Note: If you're an overachiever you can split your monthly goals into 2-week Sprints. (This term is taken from the commonly used Scrum Methodology in software development) Sprints challenge you to take action in a short period of time to maximize you weekly productivity. Again, you would only need to have 3 goals over the course of 2-weeks.
THE ACTION
The top half of the framework is devoted to created the roadmap you need to follow but the last two squares at the bottom are how you plan on accomplishing this goals and the actions you need to take to make it happen. Here's an example…

Summary
In summary, the Vision Framework is a roadmap helping you bring your vision into fruition by setting achievable short-term goals. By focusing on the small wins you are consistently making progress towards your BIG goals one day at a time while simultaneously relieving the anxiety, stress, and fear associated with achieving something BIG!
If you haven't noticed, the most crucial component of the Vision Framework is TIME. Utilizing your time efficiently is the most important factor and difference maker in accomplishing your BIG 3 goals and New Year's Resolutions.
The beauty of the Vision Framework is that it allows you to Dream Big but helps you understand what's realistic based on your own capabilities and sets checkpoints to help guide you along the way.
Don't forget to always THINK BIG. Start Small, and Work Fast. 😉
The Next Steps
Download the Vision Framework HERE and start using it for yourself. For more tools and resources like this, Pre-Register for Surthrive Labs, our online community empowering the next generation of entrepreneurs, HERE!