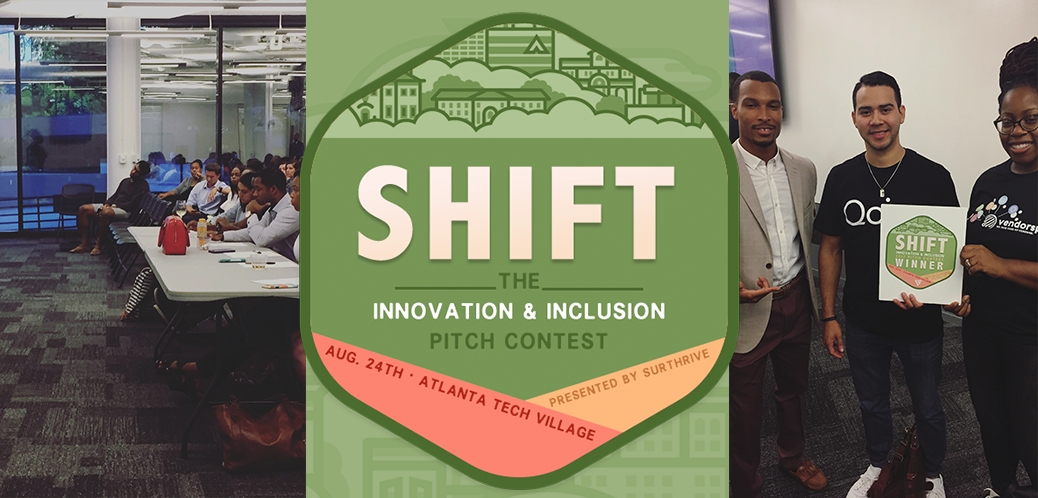 The inaugural 2017 SHIFT Pitch Contest, organized by Surthrive Labs, aimed to bridge the diversity gap in technology by giving women and minority entrepreneurs the opportunity to win beneficial resources to help grow and scale their startup company.
In 2016, Justin McLeod, Founder of Surthrive, won the Women + Minority Entrepreneur Pitch Contest hosted by UrbanGeekz, which awarded him with a complimentary scholarship at Atlanta Tech Village. Justin genuinely wanted to "pay it forward" by relaunching the contest to help another hard working individual gain access to Atlanta's thriving tech community.
THE CONTEST
With over 20 submissions, we hand-selected five of the best Women + Minority led tech startups to deliver a 5 minute pitch to our distinguished panel of judges for a chance to win a FREE membership at Atlanta Tech Village, $120K in Microsoft Cloud Credits, and a marketing service package from Surthrive.
Finalists Included:
THE JUDGES
We brought together the brilliant minds in Atlanta's rising tech ecosystem that represent diverse perspectives, passions, and talents to help launch a new world-changing product.
Judges:
– Candace Victoria Mitchell, Founder, Myavana
– Karen Akridge Houghton, Executive Director, Atlanta Tech Village
– Roshawnna Novellus – The Wealthy Yogi, Founder, Enrichher
– Charlton Cunningham, Executive Director, Startup Atlanta
– James Jones, Founder, RaceIQ
– Holly Beilin, Editor-In-Chief, Hypepotamus
PEOPLE'S CHOICE AWARD
All Applicants had the option to enter into the People's Choice Contest where their 60 second pitch video was posted on our Twitter account (@SurthriveLabs) allowing supporters to vote by retweeting and sharing the pitch video via #SHIFT2017. 
The competition got heated but SeatCheck ended up taking home the People's Choice Award with 551 retweets!
PITCH PRACTICE
Pitch Practice is a weekly meetup for entrepreneurs to literally practice delivering a 30-second, 3 minute, or 5+ minute business pitch.
On Friday, August 18th, we invited our 5 finalists to participate in Atlanta Tech Village's weekly Pitch Practice meetup to gain guidance, tips, and feedback from the startup community to improve your pitch for the live pitch contest next Thursday, August 24th.